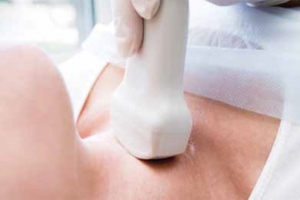 When Ms Tan (not her real name), a 36-year old administrative assistant, was diagnosed with a thyroid nodule(a fleshy lump) last year, the conventional option then was open surgery to have it taken out. It measured 3.5cm then, and really, Ms Tan's case wouldn't have been uncommon as some 300-500 people – mostly women – have thyroid nodules taken out at Singapore General Hospital (SGH) alone every year.
"Thyroidectomy isn't an unusual procedure, and thyroid nodules are usually benign. But it is good to remove these nodules which, if they continue to grow, can impinge upon the airway or the throat," says Ranjiv Sivanandan, Consultant Head & Neck and General Surgeon, The Thyroid Head & Neck Surgery Center.
On the day of the operation itself however, just before she was scheduled for surgery, she asked for Dr Ranjiv again, concerned about how the scar would look after the surgery. "She showed me her abdominal scar from a caesarian operation years ago, which had healed poorly. She happen to have skin prone to hypertrophic scars like keloids."
The more cosmetically pleasing option – which was robotic thyroidectomy and the most minimally invasive – wasn't available in Singapore then, but after some deliberation, the patient opted to wait. Dr Ranjiv knew that Korean doctors were doing it, and they had done some 1,500 cases since they started in 2007, none of which had to be converted to open surgery.
It wasn't until last December that Dr Ranjiv. Who had left SGH by then and started his own clinic, went to Korea to learn how it was done. In early May, just about 2 weeks ago, the patient became the first in Singapore to have a robotic thyroidectomy done in Mount Elizabeth Hospital. She was discharged the next day, without a scar on her neck and with a perfectly normal voice.
While robotic surgery isn't new here – its most commonly used in urology, colorectal, obstetrics and gynecology and cardiothoracic surgeries – it's a new application for the neck which isn't a natural cavity, as a place where you can immediately access the organs. So robotic thyroidectomy is significant, says Dr Ranjiv, especially so as it opens up possibilities of using mours and lymph nodes in a minimally invasive way. Robotics is definitely the way surgery is going, given the advantages over laparoscopic and endoscopic surgery.
But for now, operating times are longer, he admits. The intuitive nature of robotic surgery, however, means a much shorter learning curve than for endoscopic surgery. The robotic thyroidectomy he conducted here took about six hours, but in Korea, doctors there can take as little as one and a half to two hours. While the operation itself didn't take long – once the instruments were positioned it took two hours plus; it was getting the Da Vinci robotic system in the right position. "That took about 45 minutes as we had to get it into the right position (between the neck and shoulders)," he points out. Then creating the "work space" took another hour and a half, when it could have taken about 25 minutes. In the case of a robotic thyroidectomy, the incision is made at the armpit, and then instruments are channeled through there to the thyroid gland in the neck.
So how is robotic thyroidectomy different from the usual open surgery, and why can't minimally invasive endoscopic thyroidectomy be done? Endoscopic thyroidectomy can, and has been performed in several centers worldwide. But it has never gained wide acceptance because of the nature of the neck anatomy and limited space, as well as the constraints of the instruments used which are two solid long handles. "The instruments just don't have the flexibility to do what they need to do accurately." Dr Ranjiv explains.
In robotic surgery, the surgeon's hands are on controls which articulates his hand movement as they are, and in fact improve on them in terms of dexterity and precision – as those movements can be shrunk down to a fineness that's a fifth of their actual movement. Robotic surgery is also an "ergonomic" procedure for surgeons as they are conducting the surgery via controls in a console, looking into a screen, not standing near the body, so he's not elbow-to-elbow with his supporting team there. In addition, the 3-D magnified view on a stable platform far surpasses visualization on the hand held video camera used in laparoscopic and endoscopic surgery.
Other than the fact that the procedure is carried out robotically, and patients don't get a visible scar, the thyroidectomy has similar risks and downtime as an open procedure. The most significant feedback is patient satisfaction with robotic thyroidectomy because of its cosmetic advantages. "Otherwise, the usual incision at the neck in open surgery is 6cm long," points out Dr Ranjiv.
"Although the cost of robotic thyroidectomy is almost 50 per cent higher than open surgery, for now, the procedure is offered at Mount Elizabeth Hospital at the same price because it's such a new procedure there," he adds.
There are limitations to who can qualify for robotic thyroidectomy of course, such as the fact that the nodules shouldn't be more than 5cm in size. Age is also a consideration as woman above 60 may not be as conscious about scar as one who's younger. "Thyroid nodules are five to eight times more likely to affect women, and it can be ultrasonographically detected about 30 per cent of woman under 50 years old, and 50 per cent of women above 60," elaborates Dr Ranjiv. Nodules less than 1cm in size are often diagnosed with an ultrasound.
There is a genetic pre-disposition for thyroid lumps, but iodine deficiency is the most common cause, and occasionally, excessive consumption of goitrogenic food like soyabean, peanuts, bok choyu, broccoli, spinach and cauliflower.
Over 90 per cent of the nodules are benign; but although the incidence of thyroid cancer is relatively low (10th most common in Singapore women), rates of thyroid cancer have been increasing at about 7 per cent per year which is faster than any other cancer.
Article featured on
The Business Times Weekend
Saturday/Sunday, June 5-6. 2010